About Jio APN Settings – Most of the Jio users are experiencing slow internet speed issues in their location. In this post, we share super-secret Jio APN Settings to solving slow internet speed connection problems for Jio Network users.
Every Mobile Operator has different APN Settings, and the APN is (Access point name) to access internet service.
This Jio APN Settings Trick will work on all Android, Devices.
The Default Jio Access Point Name is Set to 'jionet.'
We have provided the best Jio internet settings. Just follow the step-by-step carefully and paste the exact Jio APN Setting Values as listed in the table below.
How to Access APN Settings Option?
Go to Settings > Find SIM Card & Mobile DATA Option > Select Your SIM > Find Below Access Point Names and Click.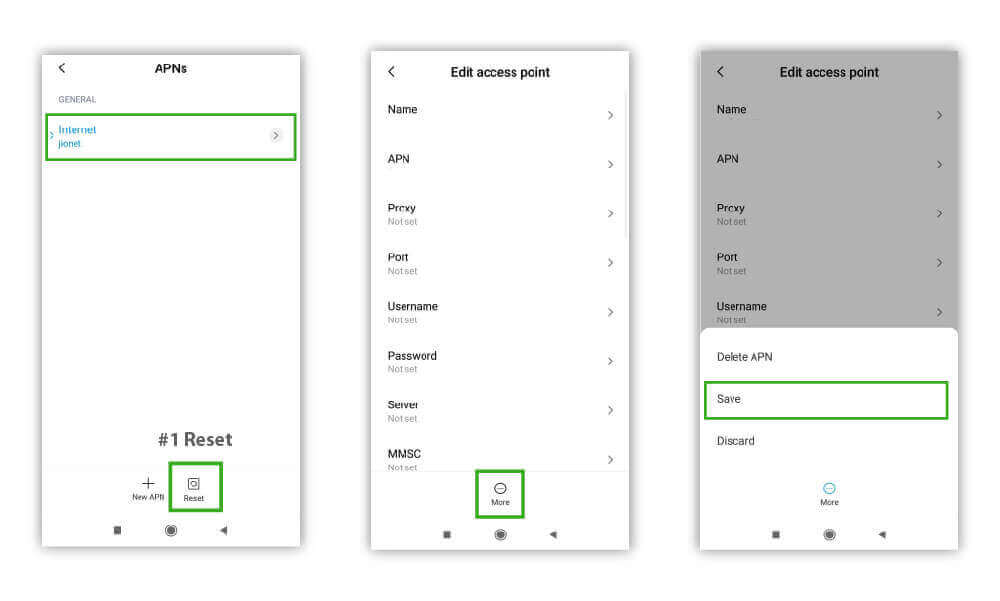 After Opening Access Point Names, Then Click Three Dot Icon on Top Right Corner or any of your option to Click Reset to Default or Reset Access Point.
After Resetting APN Successful then you can see your default APN Setting.
How to Change Jio APN Settings (Access Point Name)?
Next, Follow the Exact Step,
Click Your Jionet APN, which shows on your mobile screen, and copy-paste the exact APN Value mentioned in table without any Mistakes.
Don't Make a Mistake in Upper case and Lower case. Do what value exact given on the table.
Jio APN Settings for Android
| | |
| --- | --- |
| Name | Jio NET |
| APN | jionet |
| Proxy | Not Set |
| Port | Not Set |
| Username | Speed.Net |
| Password | Not Set |
| Server | www.google.com |
| MMSC | Not Set |
| MMS Proxy | Not Set |
| MMS Port | Not Set |
| MCC | Don't Change |
| MNC | Don't Change |
| Authentication Type | PAP |
| APN Type | Don't Change |
| APN Protocol | IPV4/IPV6 |
| APN Roaming Protocol | IPV4/IPV6 |
| Bearer | LTE |
| MVNO | Not Set |
After Successfully Completed Changing APN Setting, Then Click on Save and Restart your Mobile Phone.
Check internet Speed using the Internet Speed Test App.
If you cannot access the internet, go to Jio APN Settings and Reset to Default and Change APN Value which given in the Table Above.
Click save Jio APN Internet Setting and Switch off your mobile, and Restart.
It Depends on your location Jio Internet Speed May Vary.
You Might Get Good Result after Changing APN Setting.
Bottom Line
The Jio network users live in a small part of the town, and the Internet bandwidth is divided for all network users, which splits the speed and, therefore, gets the slower rate?
More people using Jio net at the same time will cause the slower the Internet speed, even if you have an entire network point.
Another Method to Quickly Speedup, Turn on Airplane mode for 15 seconds and turn it off again.
Now check whether your Jio internet is Properly working or not.
If not, then make sure you have proper APN settings.
We hope you like this post do share this with your friends also tell about Jio APN Settings, Checkout our more interesting post on Softrick.