You Have a Good Gaming PC Hardware CPU, GPU, Gaming Motherboard but what about the PC Cabinet? This Post is About Best gaming PC Cabinet Under 3000 rupees.
Best Cabinet Makes your PC Look More Attractive Nowadays Best RGB Gaming PC Cabinet is Available at Best Price. Suppose your planning to replace your old PC cabinet to New one. In that case, you can do it easily, or if you are Planning for Building a New PC and you Confused about selecting the best Gaming PC Cabinet Under 3000 in your budget, We Will help you find your Future PC Cabinet.
This Post We Have Carefully Selected and listed the Best Gaming PC Cabinet Under 30000 Rupees in India. Let's Have a Check the List of Best Gaming PC Cabinet Under 3000.
Before We Start, Check Cabinet Price Before Buying in Amazon Because PC Electronic Item is not fixed Price permanently, Price may change time to time.
Best Gaming PC Cabinet Under 3000
Ant Esports ICE-200TG
Ant Esports ICE-200TG is a Mid Tower Gaming PC Cabinet Good for Budget Gamers in This budget you get many features, This Cabinet RGB Lights Support, Flash Card Reader Support, Good Quality PC Cabinet with X RGB Front Panel with LED Controllable Button also Provides PSU Shroud.
Easy Cable Management. This Cabinet Supports Micro-ATX, ATX Motherboard and Mini-ITX Motherboard, and This Cabinet Provides Transparent Tempered Glass Side Panel with One 120mm Rainbow RGB Fan. You can Install 2 Hard Drive and x2 SSD. Overall, This Cabinet Looks Techy.
This is The Best Cabinet in Your Budget If your looking for Gaming and for Content Creation Like Photo Editing and Video Editing.
CHIPTRONEX MX1 RGB
Best Gaming PC Cabinet Under 3000, Great PC Case with Great Features, CHIPTRONEX MX1 RGB Mid Tower Gaming Cabinet Supports ATX/MATX/ITX Motherboard with USB 3.0 Supports, Side Tempered Glass Panel, 120mm Preinstalled RGB Fan, You Can do Cable Management without any hassle.
Overall the quality of the Cabinet is good. Looks sturdy and stands out.
Aerocool Bolt RGB
Aerocool Bolt RGB PC Gaming Cabinet Stylish RGB LED Design. Motherboard Supports ATX, Micro-ATX, Mini-ITX, Transparent Acrylic Side Panel, RGB LED Strip Included Provide Great Futuristic Look in Dark, 13 Lighting Modes, 120mm Black Fan Included, Best Air Flows, Cable Management, Good Build Quality and Best Gaming PC Cabinet Under 3000 Value for Money Offer.
Gamdias Argus E2
Best Gaming PC Cabinet Under 3000 is Gamdias Argus E2, The Mid Tower Gaming PC Cabinet with 120mm Fan Pre-Installed Fan Motherboard Sync & Panoramic Tempered Glass Side Panel with RGB-Lit Y Style Design Front Panel and Magnetic Dust Filter Provided in the Top.
Ant Esports ICE-511MT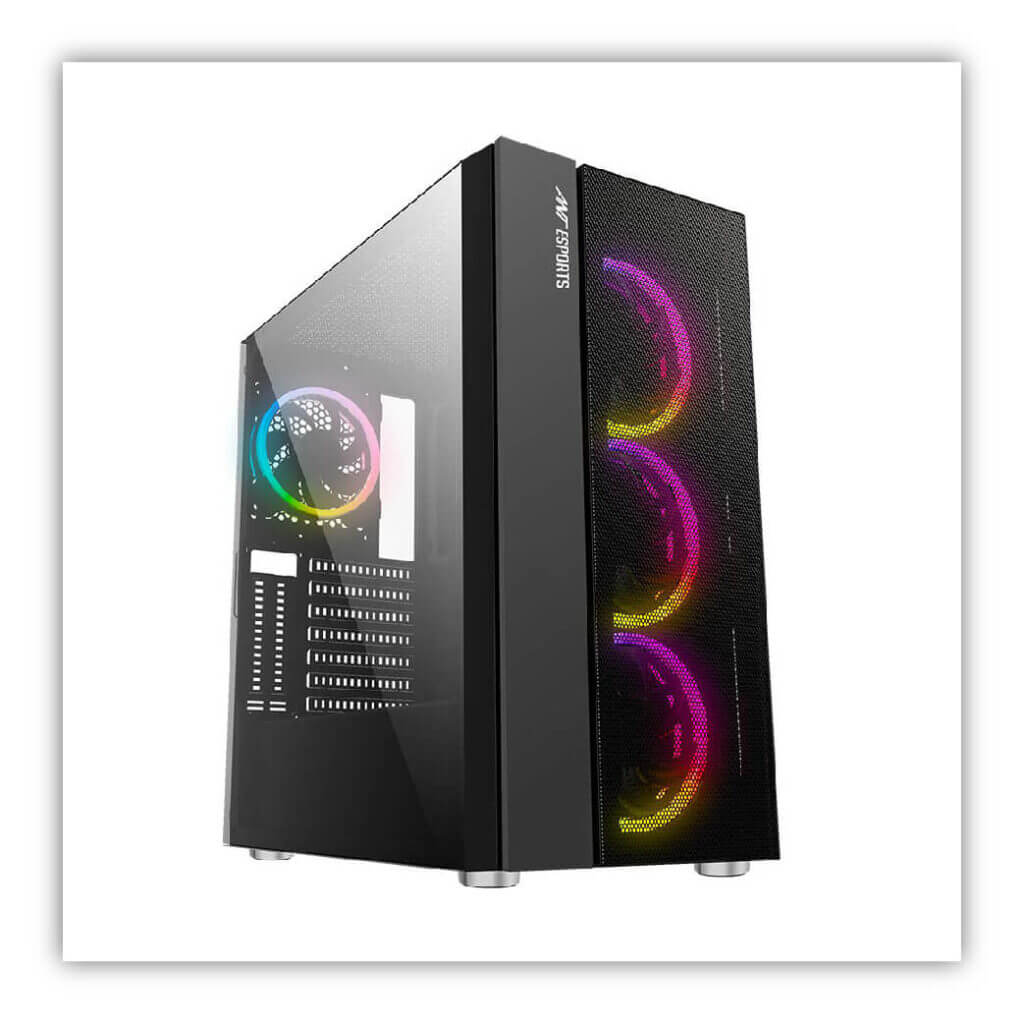 Amazing PC Cabinet Ant Esports ICE-511MT Best for All PC Gamers, Mid Tower Gaming Cabinet with 3 Preinstalled Auto-RGB Front Fan & 1 x120mm Inner Case RGB Fan. Excellent at Airflow Supports E-ATX, ATX, Micro-ATX, Mini-ITX Motherboard with Sliding Tempered Glass Side Panel.
This Cabinet Provides PSU Shroud, and you can install 2 Hard Drive and 4 SSD, Anti Dust Filter, Cable Management; at this price point, surely tell this is the Best Cabinet if you're looking for Best Gaming PC Cabinet Under 3000.
CHIPTRONEX MX2 RGB
Flat Elegant looking CHIPTRONEX MX2 RGB Mid Tower Gaming Cabinet, ATX, Micro ATX, and Mini ITX Motherboard supports with Side Tempered Glass, 120mm RGB Fan Preinstalled, and USB 3.0 Supports. The important thing for me is that we can install two fans for direct air to the graphic card in the bottom. Temper glass is at the side of the cabinet.
Perfect space for cable management. Front RGB LEDs are looking good. We can change the mode of light effects with a button. The cabinet look is excellent.
Zebronics Zeb-Demeter
We all Know Zebronics is the most popular brand in India, and we come up with Zebronics Zeb-Demeter Gaming PC Case with Best Special Features provides, Transparent Side Panel in Top Magnetic Dust Filter, 120mm Rainbow RGB Rear Halo Ring Fan & Front RGB LED Strips. Look more excellent. It Supports ATX, mATX / Mini ITX Motherboard.
Conclusion
We hope this post helped you to find The Best Gaming PC Cabinet under Rs. 3000, Do Feel Free To Sharing this Post with your Techy friends. We Softrick Come up with PC Building, PC Parts Comparison, Latest PC Update, Best Deals, and Offer, so make sure you have bookmarked us and stay tuned. Thankyou.
Do Checkout Our New Post Gaming PC Build Under 50000